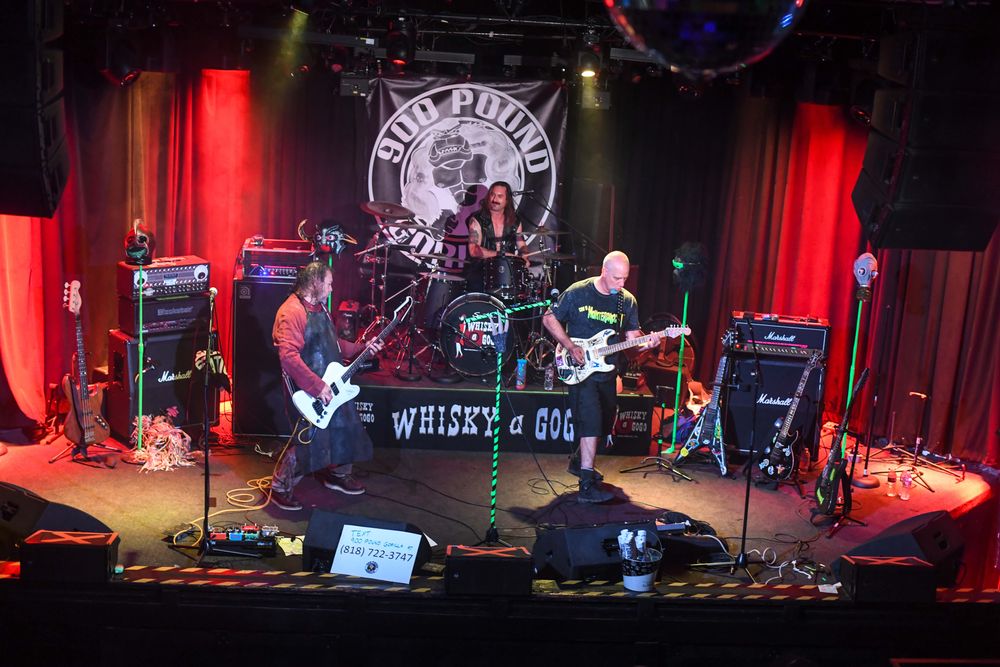 900 POUND GORILLA tik tok PAGE
Join our Email list for cool offers and shows!

What's up???!!!???   WHAT CAN WE SAY,  THANK YOU!!      To all of our friends and family that came out to support us at The Whisky,   thank you!!         We've finished a new 6 song EP with Mixer/engineer extraordinaire Paul Fig and are working on shooting videos!  Here's our new video for our first song from the EP:
    Just posting both of our youtube channels .  (until we combine them)
 https://www.youtube.com/user/900poundgorilla
and
https://www.youtube.com/channel/UCaXuTtr79bFvjIDfSt0MZ0g/videos
 --------------------------------------------------------------
It's with a heavy heart I share the news of the loss of my 
Great friend and brother from another mother Jeff Edwards.     
Jeff was like a brother to many of us, 
And I'm sure we will have a lot of stories to share.  
There is a gofundme 
Setup if you wish to donate to help with his funeral/memorial expenses. 
https://www.gofundme.com/f/jeff-edwards-memorial-fund?utm_source=customer&utm_medium=copy_link&utm_campaign=p_cf+share-flow-1 
I've known Jeff for a long time and our friendship always went beyond the number of bands that we'd played in together.   Besides being a monster drummer,  he was a fierce and loyal friend.   He was like an uncle to my kids and always an important part of our family.   He wasn't afraid to tell those around him what they meant to him.   He leaves behind his wife Brandi and stepson Jariss.        We've been posting videos from our Canyon club show on youtube and Facebook.   We also did a lifestream of the whole show.     More videos to come!    
Here's our Facebook link :
https://www.facebook.com/profile.php?id=61553551520410
We had an awesome show the Agoura hills Canyon Club on October 19th.   We opened for Oingo Boingo Former members.    (saw them last year, they're great)   
Our second album is now out!   Click the link below to check it out.     900 POUND GORILLA GOES APESH*T!!!!
 Here's our itunes link :http://itunes.apple.com/us/artist/900-pound-gorilla/id207365647
We've got 4 new videos up from the album.
Here's our youtube link :
href="https://www.youtube.com/900poundgorilla">https://www.youtube.com/900poundgorilla
Here's our cafepress website, for some merch: Come visit my store on CafePress!
Donat and Jeff were on the    Combat Radio show previously at LA'S TALK RADIO.    You can check it out at-
http://www.latalkradio.com/images/Combat-061710.mp3
Have fun on the site and please leave us a message on the Guestbook!  
 Here's some more band info: we've got a song on "Auditory Assault" a compilation by Bare Metal Records that's being sent to troops in Iraq and Afghanistan. We've got a song on the Mohawk Bomb 3rd compilation album, Thanks Ivan!, and we we're nominated for a Just Plain Folks Award.. Donny just recorded some intro's for our friend John Dissed, from the band Bull Lee and his podcast "the Bull Pit" Here's the website: http://thebullpit.podbean.com/
 New news, we're getting some airplay in the UK on a music show called "The Overflow" more details are in the news section. A bunch of our friends bands are on this comp including Bull Lee, Soulfound, and Black Diamond Love.
The Gorillamobile is alive! We've got some pictures in the photo section. We're just looking to have some fun with it while promoting the band. Hope to see you on the road. Plus there's a new website created for it: www.myspace.com/thegorillamobile Hit us up! Peace, 900 POUND GORILLA